Arabian Gold Pusher Coin Pusher Medal Machine
This product comes from Highwaygames.com
---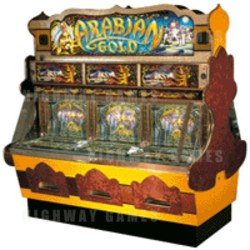 The cabinet features stunning artwork, making the Arabian Gold Pusher a fine centrepiece for any location. Available as a 3 player wall or 6 player centrepiece.



New deck design with build up and fast motors for maximum play appeal.
Electronic background music with coin insertion sound.
Fully adjustable tilt protection with alarm system if the machine is lifted or banged.
Export versions are available to suit your coinage and electrical requirements.
Change units between player positions are now available as an option. -Now available as 1,2 and 3 player wall models and 4 and 6 player centrepiece models.
---
The URL for this product is:
https://www.highwaygames.comhttps://www.highwaygames.com/arcade-machines/arabian-gold-pusher-coin-pusher-medal-machine-8860/

Copyright © 1999 - 2021, Highwaygames.com All Rights