Arctic Chomp Arcade Machine
This product comes from Highwaygames.com
---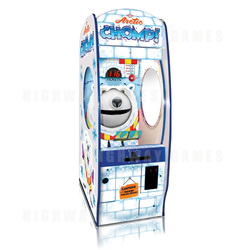 Arctic Chomp Arcade Machine is a ticket redemption arcade game designed for kids and young children to enjoy!

This game is fun and easy to understand for players of all ages, not to mention fast-paced and exciting, and comes in a bright polar themed cabinet!

The aim of the game is for players to move the handle at the front of the cabinet up and down to scoop up the dropping balls and put them in the polar bear's mouth! The challenge comes into play with the constantly moving balls and the mouth of the bear, which moves up and down during the game.

Players have to use their reflex and timing skills to scoop the maximum amount of balls into the target area. The more balls you can scoop up the more tickets players will earn!

Players also get a bonus in the last few seconds of the game, where every ball scored is worth double the points and that means double tickets!

The small footprint of the cabinet allows it to fit into a wide range of locations, including small street locations and larger Family Entertainment Center. The fun game play and bright cabinet will draw in players from all across the floor.

---
The URL for this product is:
https://www.highwaygames.comhttps://www.highwaygames.com/arcade-machines/arctic-chomp-arcade-machine-17256/

Copyright © 1999 - 2022, Highwaygames.com All Rights