Arctic Thunder DX
This product comes from Highwaygames.com
---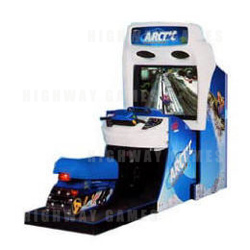 Arctic Thunder is a Midway's first true 31k racing game. It's a snowmobile "adventure racing" game full of over-the-top, adrenaline-inducing action. With exhilarating tracks and powerful sleds the gameplay offers many levels of depth for novice and seasoned players.

Characters and Sleds

Armed with their own arsenal of tricks, each of the six characters feature unique attributes, personalities and sleds. Some characters are better suited to attack, while others possess stronger defense mechanisms. Being able to choose different characters each time you play creates new racing challenges. Each character is equipped with a sled themed around their personality--with graphics and design to match. Sleds offer different handling attributes and boost effects. A hidden feature allows you to select any character for any sled, further adding to game depth.

Tracks

The six exhilarating point-to-point game tracks possess custom stories and settings. With each track you're thrust into a glacial universe packed full of heart-stopping jumps, hair-raising free falls and secret shortcuts. They range from a fantasy-like journey through a lost Himalayan city to a nail-biting blizzard in our nation's capital. Scattered amongst each of these soaring tracks are power-up icons that can add a whole new dimension to your game.

Power-ups

Power-ups are special icons placed throughout the tracks for you to collect. These give you a special ability or power for a limited time. Power-up icons include boost, shield, atomic snowballs, health and super attack.

A big feature of this game is that the machine has a special mechanism for creating vibrations in the seat along with air blowers from the front of the cabinet - to give the player the feel of speeding through the snow.



Six unique characters and sleds
Six fantasy tracks, each with distinct experiences and environmental designs
Rewarding power-ups enhance player's gameplay
Exhilarating combat game play and amazing tricks
Bone-crunching, "agony of defeat" wipeouts and spills
---
The URL for this product is:
https://www.highwaygames.comhttps://www.highwaygames.com/arcade-machines/arctic-thunder-10893/

Copyright © 1999 - 2021, Highwaygames.com All Rights