Armed Resistance DLX Arcade Machine
This product comes from Highwaygames.com
---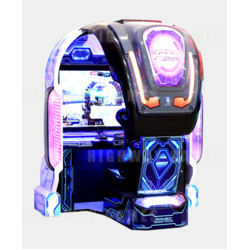 Armed Resistance DLX Arcade Machine is a Singularity-apocalypse themed game in which players select from a range of weaponised vehicles in order to fight off the Intelligent Organisms.

The tail of a comet supposed to bypass Earth, makes contact with the planet and causes a freak electrical charge across the surface, fusing man and machine together in the affect areas. These fused creations are a kind of humanoid robot known as Intelligent Organisms (IO).

The IO's go to battle with Earth's military and a war of force commences. The objective of players is to destroy the enemy and occupy the Attack Tower to win points.

Players will fight across three stages - Harbor, Desert Storm and Ruins - and will have six epic vehicles to choose from, in which they will wreak havoc and destruction. These include: a sports car, a tank, trucks, a helicopter, fighter pilot, and REPTILE ROBOT!

Players have two modes of play to choose from: go it alone in Single Battle Mode,or, join forces in Linked Battle Mode, where two units are linked together and players destroy enemy bases together. Destruction equals points in this game, so the more bases you destroy, the more points you will win!

This brightly lit cabinet uses a widescreen LCD display set in an enclosed cockpit style cabinet, which will attract players in from all across the floor, while the epic game play will have them coming back to play time and again!




Features:


6 epic weaponised vehicles - including a REPTILE ROBOT!
3 stages in which to destroy the enemy!
Single and Linked Battle modes!
Links up to 2 units!
50+ inch LCD screen with HD graphics!
Smart capability!
---
The URL for this product is:
https://www.highwaygames.comhttps://www.highwaygames.com/arcade-machines/armed-resistance-dlx-16903/

Copyright © 1999 - 2020, Highwaygames.com All Rights