Barrel of Monkeys Arcade Machine
This product comes from Highwaygames.com
---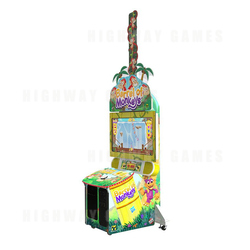 Barrel Of Monkeys is a kid-friendly video redemption arcade machine with one button for easy game play and is based on the classic game by Hasbro. It also introduces "Cheeky Monkey", the purple monkey, Hasbro's newest character!

In the Barrel Of Monkeys Arcade Machine, different monkeys are worth different amounts and the player simply links monkeys together to win tickets. The Gold Monkey is the 10th monkey, which has the bonus - link all 10 monkeys, and players go to a "secret" chamber, where the "Bonus Show" begins.

Players can choose from three different game environments to play in: The Beach, The Jungle, and The Waterfall. The colorful cabinet features artwork of the entertaining monkey characters that will capture any player's attention, a 42" HD LCD monitor and an eye catching, lighted topper will make this game a standout.

---
The URL for this product is:
https://www.highwaygames.comhttps://www.highwaygames.com/arcade-machines/barrel-monkeys-arcade-machine-16467/

Copyright © 1999 - 2022, Highwaygames.com All Rights