Batman Forever Pinball (1995)
This product comes from Highwaygames.com
---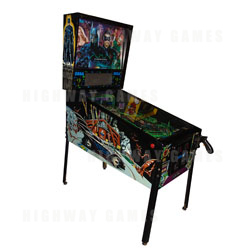 Based around the 3rd Batman movie. The cabinet features artwork, props and animations from the movie. As well as actual lines/voices from the movie.

The game features many modes and to help beginner players you can select a mode at the start of each ball. Choices include 25 Million points, Start Gotham Scene, Mr. E Award, 2X Bonus, Two-Face Pop Ups.

The game also features mini games that can be played on the oversized dot matrix screen(192x64) like Rooftop Chase where the players controls the batmobile with the flippers and tries to avoid obstacles.

---
The URL for this product is:
https://www.highwaygames.comhttps://www.highwaygames.com/arcade-machines/batman-forever-pinball-5838/

Copyright © 1999 - 2022, Highwaygames.com All Rights