Beatmania II DX 18 Resort Anthem Arcade Machine
This product comes from Highwaygames.com
---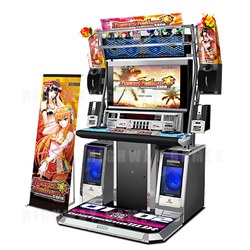 Beatmania II DX 18 Resort Anthem is a music video game and the 18th installment of Beatmania II DX series.

This Beatmania's theme focuses heavily on a futuristic modern relaxation and tropical beach resort concert like setting, with the interface making use of sleek mechanical components with simple whites and bright colors that are easy on the eyes.

There are some changes made for this series. The song wheel is now circular rather than vertical, similar to the one on Dance Dance Revolution and includes more than 60 new songs. 2 new modes are presented; Premium Free Mode, a mode where the player plays for 8 minutes as opposed to 2 stages, and DJ Order Mode, a mode which is similar to pop'n music's Challenge Mode, where a player can select missions (similar to pop'n's Normas) and earn DELLAR POINTS. Other that, all of the gameplay remains the same.

Resort Anthem only has one Extra Stage, making it the first to do this since Beatmania IIDX 12: Happy Sky. However, players can get new songs through Beat Unlocks, JAPAN TOUR, WORLD TOUR and other unlocking events.

This bright, tropical looking machine, will attract players from all across the floor with new songs, modes and stages to enjoy.

---
The URL for this product is:
https://www.highwaygames.comhttps://www.highwaygames.com/arcade-machines/beatmania-ii-dx-18-resort-anthem-16991/

Copyright © 1999 - 2022, Highwaygames.com All Rights