Beatmania IIDX 21 SPADA Arcade Machine
This product comes from Highwaygames.com
---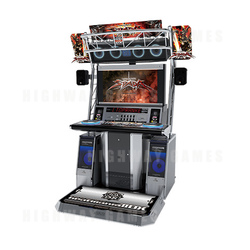 Beatmania IIDX 21 SPADA is a music video game and the 21st installment of the Beatmania IIDX series from Konami. The main motif of the game revolves around swords. The UI has a medieval fantasy theme and mainly features black, brown and red colors.

The game retains the simple gameplay concept: Players are reuiqred to hit notes as they fall from the top of the screen once they reach the hit zone using key or turntable style controls. Hitting the notes correctly will fill up the Groove Meter while failure to do so will drain it; the Groove Meter must be at lest 80% full at the end of the song to pass.

Some features include the ability to freely change between Single and Double Play during song selection, 'Charge Note' which requires players to hold a note down to charge it, 'Backspin Scratch' where players - when spinning the turntable - spin them the in the opposite direction right at the end of the rotation, new STEP UP mode for new players to practice, and a massive 34 new songs (with 21 old ones being removed) - bringing the total available song to over 800 including unlockable songs as rewards!

e-AMUSEMENT features include:


DJ Name
Songs Played and High Scores
Completion Rate and Rnaking for Each Level
Online Gameplay and Real-Time Rankings
And many more!
---
The URL for this product is:
https://www.highwaygames.comhttps://www.highwaygames.com/arcade-machines/beatmania-iidx-21-spada-arcade-machine-16469/

Copyright © 1999 - 2021, Highwaygames.com All Rights