Beatmania III Append 6th Mix
This product comes from Highwaygames.com
---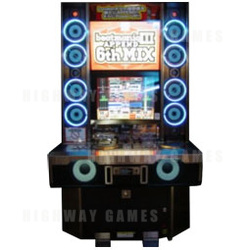 Beatmania III Append Core Remix is the 3rd game in the Beatmania III series of music video games from Konami. Gameplay is essentially the same as in the Beatmania series, but with a few enhancements to the hardware. Contains over 190 songs.

The Beatmania III cabinet features a total of 10 speakers. There are four mid-range speakers stacked vertically on either side of the screen, and two subwoofers located on the front of the machine. Beatmania III also has an extensive panel for using a number of different effectors, rather than a single "effector" button as seen in the Beatmania series. Available effectors vary widely, including Echo, Low Pass, High Pass, Flanger, Phaser, Volume Bass, Lo-Fi, and several others.

Another change between the original Beatmania and games in the Beatmania III series is that Beatmania III adds a foot pedal for each player. In normal play, this enables or disables different sound-altering effectors.

---
The URL for this product is:
https://www.highwaygames.comhttps://www.highwaygames.com/arcade-machines/beatmania-iii-append-10813/

Copyright © 1999 - 2022, Highwaygames.com All Rights