Big Ben
This product comes from Highwaygames.com
---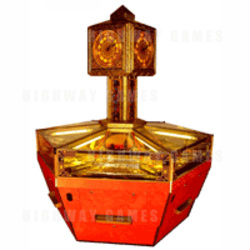 Big Ben is Harry Levy's six-player pusher with all round vision, wide playfields and optional unique bonus feature.

To advance to the second and third level of the game for Jackpot Win, players must stop the light on the arrow.

The Big Ben top sign is a working Clock where the hands go backwards. The game boasts authentic Big Ben sound effects.

Big Ben is slated to be released at the 2004 ATEI.

---
The URL for this product is:
https://www.highwaygames.comhttps://www.highwaygames.com/arcade-machines/big-ben-8949/

Copyright © 1999 - 2022, Highwaygames.com All Rights