Big Buck HD Dedicated 32" Arcade Machine
This product comes from Highwaygames.com
---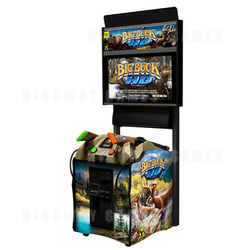 The new Dedicated model of Big Buck HD from Raw Thrills and Play Mechanix is a two player shooting style game. Gameplay includes high definition hunting in North America and Africa, with fresh new gameplay, Trophy Animal Challenges, heaps of online features - including real-time gameplay and tournatments - and in-game promotions Big Buck HD Dedicated will entertain veteran hunters and greenhorns alike.

Watch the trailer here (sourced from Bigbuckhunterpro on Youtube):





Comes with 32" monitor (also available with 80" monitor)
1080p High Definition Cinema Quality Graphics
Online gaming allows real time head-to-head competition between players, Mini and Mega tournaments, location finder
Social networking, including Facebook and Twitter integration
Credit/Debit Card Acceptance
Preinstalled Verzion Cell Modem for easy connectivity
New ergonomically and structurally improved Big Buck HD gun, design is universal, however operator can choose green or orange colouring
Includes new Dell PC with one year warranty.
---
The URL for this product is:
https://www.highwaygames.comhttps://www.highwaygames.com/arcade-machines/big-buck-hd-dedicated-arcade-machine-11791/

Copyright © 1999 - 2021, Highwaygames.com All Rights