Big Buck HD Wild: Gemsbok
This product comes from Highwaygames.com
---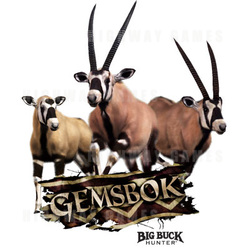 Gemsbok has arrived to Big Buck HD Wild.

Big Buck HD Wild: Gemsbok follows the 2015 Big Buck releases Irish Elk Adventure and In Case of Zombies: Doe of the Dead, and 2016's Bighorn Sheep challenge.

For 2017, Big Buck players will hunt the magnificent gemsbok, trek through new adventures and even get the chance to fight against alien invaders, fearless pirates and more in new bonus games.

With three new treks and three new bonus games, the Gemsbok adventure stampedes forth with pirates, mine carts and invaders from space in tow.

Gemsbok is the new character Big Buck Hunters are targeting.

The animal is a large antelope native to the arid regions of Southern Africa.

Big Buck HD Wild transports you to the prehistoric land of the Irish Elk and the monstrous zombie takeover of Pappy's Land.

Players hunt down majestic Irish Elk and dangerous trophy animals from 900 B.C. The game gets even more wild with In Case of Zombies: Doe of the Dead.

It doesn't stop with zombie humans, but includes zombie raccoons, chickens, deer, and even a zombie bear.

Tournaments are revamped to include high stakes and a competitive new ranking system that allows players keep track of how they match up to buck hunters around the country.

Big Buck Hunter HD Wild is a Play Mechanix and Raw Thrills product.

If your Big Buck HD is online, the Gemsbok update should already be downloaded to your unit.


---
The URL for this product is:
https://www.highwaygames.comhttps://www.highwaygames.com/arcade-machines/big-buck-hd-wild-gemsbok-17436/

Copyright © 1999 - 2021, Highwaygames.com All Rights