Candy Crush Saga Ticket Redemption Arcade Machine
This product comes from Highwaygames.com
---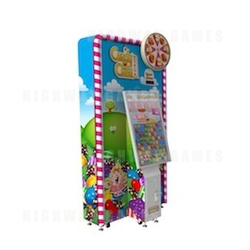 Candy Crush Saga Ticket Redemption Arcade Machine is a video redemption, touch screen arcade machine based on the super addictive and phenomenally popular mobile/facebook app.

Explore the sweet and colourful world of Candy Crush Saga on a large 42" touch screen in this fun match-3 puzzle arcade game.

Switch the different coloured candies and jellies around the grid, matching up three of a kind, eliminating candies and jellies from the board and completing objectives in each stage (there are a total of 15 stages of delicious puzzle/candy goodness).

There are plenty of ways to win tickets as well. Players can win tickets by completing combos, clearing all the jellies and turning the bonus wheel, and by completing all 15 stages for the Super Bonus!

This bright and exciting arcade machine with ticket redemption will captivate players of all age groups, and this machine (with it's small footprint and addictive gameplay) works in a variety of locations!


---
The URL for this product is:
https://www.highwaygames.comhttps://www.highwaygames.com/arcade-machines/candy-crush-saga-ticket-redemption-arcade-machine-16988/

Copyright © 1999 - 2021, Highwaygames.com All Rights