Candy Factory 24" Crane Machine
This product comes from Highwaygames.com
---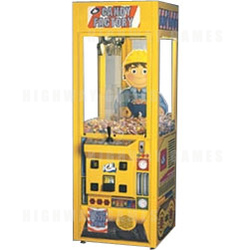 Candy Factory 24" Crane Machine is a mini crane machine from ICE which includes a winner everytime option, so that players always walk away a winner!

This new crane features a new claw, crane wagon, and electronics! These mini cranes are great to look at and very functional in a wide variety of spaces.

The bright cabinet ensures the Candy Factory 24" Crane Machine will stand out on any floor, while the small footprint ensures that this machine will fit into a wide variety of locations including street locations and family entertainment centers.

---
The URL for this product is:
https://www.highwaygames.comhttps://www.highwaygames.com/arcade-machines/candy-factory-24-crane-machine-10714/

Copyright © 1999 - 2022, Highwaygames.com All Rights