Casino Poker
This product comes from Highwaygames.com
---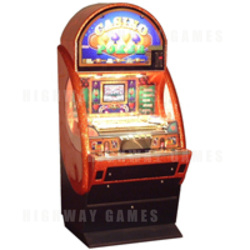 Casino Poker is a one player pusher with a poker game on its Plasma screen. Casino Poker is housed in Harry Levy's brand new casino style cabinet and comes complete with a chrome bench type seat as standard. Players insert a coin to start the game. If they spin the Poker dice, Full House or 5 of a kind - they win up to a 50 coin splash. If the player can get coins to drop through the spin channels, this starts the Win chips feature. Winning chips takes the player into a poker game, where their chances to win a huge coin splash for winning Poker Hands increases with the number of chips won. Casino Poker features constant payouts, terrific sound effects and standard pusher play.



Plasma screen in centre of pin Perspex allows players to see all the action of the dice, reels and splash feature
Each chip won gives the player a game of poker.
Each win on the poker game accumulates coins for the big cash plash that pushes coins over the edge into the win tray
---
The URL for this product is:
https://www.highwaygames.comhttps://www.highwaygames.com/arcade-machines/casino-poker-9132/

Copyright © 1999 - 2022, Highwaygames.com All Rights