China Dragon in Fish Hunter Arcade Machine
This product comes from Highwaygames.com
---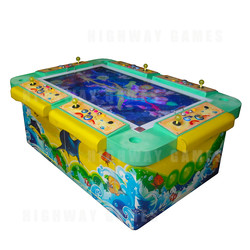 China Dragon is an arcade redemption game in a 6 player, Fish Hunter Arcade Machine with a 55" LCD monitor and an ocean theme where the players will get points for catching fish.

Players simply insert their credits to start the game. Once the game begins, players use the joystick to aim the gun at the fish swimming by and, when they gave a target lined up, hit the 'SHOOT' button to try and kill the fish or dragons. Players also have non-character objects to aim and shoot at, which assist the players in the game.

There are a total of 19 fish based characters, 3 dragon based characters (a red, gold and green dragon) and 1 Sea Monster character which is the big prize for players to try and score! The game also has heaps of fun features and mini-games for players to enjoy, making it challenging for older or more experienced players, however the gameplay concept is still quite simple enough for the younger or inexperienced players to fully enjoy.

The features include:

-Crazy Piranha – this fish eats the other fish on the playfield as it swims by. With each fish it eats it gets bigger and becomes worth more points – almost like a hidden prize!

-Sea Monster – this is the big prize. Players shoot at the Sea Monster for coins and earn the big reward if they manage to kill it. It's worth 300-500 points.

-Vortex or Cyclone – this can be shot by the players, and the player who manages to hit it will receive anywhere between 5-20 fish with it as it sucks in the surrounding fish giving all points to the player.

-Hockey Props – this is a big blue bubble that floats across the screen. When a player shoots it the screen is frozen for 3 seconds before it shatters, killing all the fish on the screen, awarding all points to the player.

-Fireball Props – this is a big red and orange bubble that floats across the screen. When a player shoots it a cross fire appears on the screen for a limited time, and when a fish swims into it or touches it is killed and all points are awarded to the player.

The concept is quite simple - shoot at and catch fish - however the addition of multiple characters and featured mini games layers the gameplay, making it fun and challenging for players of all ages.

---
The URL for this product is:
https://www.highwaygames.comhttps://www.highwaygames.com/arcade-machines/china-dragon-fish-hunter-arcade-machine-16624/

Copyright © 1999 - 2020, Highwaygames.com All Rights