Color Match Club Arcade Machine
This product comes from Highwaygames.com
---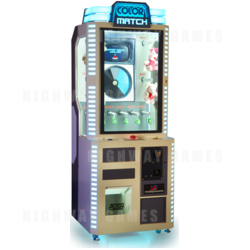 The Color Match Club Arcade Machine is a prize video redemption game and an exciting merchandizing skill game, that players of all ages will enjoy!

The aim of the game is for players to use both their hand-eye coordination and timing skills in order to match the changing colors on the rotating video wheel, as they try to win a Minor Prize.

Once they reach the Minor Prize section, they have the option of going forward and "risking it all" to try and match the colors again at a faster speed to win one of the Major Prizes, out of Color Match's seven Major Prize Lockers!

Color Match Club comes in a highly attractive, eye-catching LED illuminated arcade cabinet with Multi-Color LED glowing light effects, and with a variety of options to vend Minor Prizes (Capsules, Spiral Vend or Tickets) and also comes with an operator-adjustable "Mercy Vend" option.

Color Match Club comes in a heavy-duty steel and tempered glass cabinet, is easy to setup with LAI's on-screen operator menu (which eliminates the need for a manual), and comes coin, note acceptor and card-swipe ready.

This bright and unique cabinet will stand out in any location, drawing in players from all across the floor, while it's simple yet addictive game play will keep players coming back time and again!

---
The URL for this product is:
https://www.highwaygames.comhttps://www.highwaygames.com/arcade-machines/color-match-club-17186/

Copyright © 1999 - 2021, Highwaygames.com All Rights