Color Rangers 5 Heroes Arcade Machine
This product comes from Highwaygames.com
---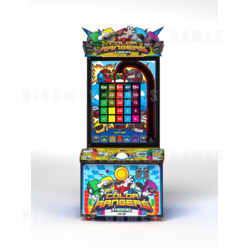 The Color Rangers 5 Heroes arcade machine is a ticket redemption game from Andamiro. This game builds upon the successof its 'Color' predecessors - Bloks and Boyz.

Players simply insert their coins to start the game, then press the big button on the panel to shoot the ball when the time is just right. Tickets are awarded when you make it through a color hole, but you must avoid the black holes at all costs - otherwise players will lose all their winnings!

Players must aim to light up all five lights in a column, and for the Jackpot win, aim for the RED column right in the middle!


Features:


Kid safe and family design!
Simple and easy to use, with one brightly lit drum button!
Colourful LED lighting effects!
Super fun and entertaining music!
Powerful ball shooting experience!
Exciting and fun zig-zag ball movement!
Accumulating winnings makes this game even more fun!
---
The URL for this product is:
https://www.highwaygames.comhttps://www.highwaygames.com/arcade-machines/color-rangers-5-heroes-16846/

Copyright © 1999 - 2022, Highwaygames.com All Rights