Cool Gunman
This product comes from Highwaygames.com
---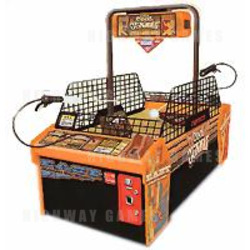 "Cool Gunman" is a two-player shooting game where the aim is to shoot a hit point on the table, causing the target to jump into the opponent's goal area. The player who scores the most points within a set time is the winner.

The targets are made of soft vinyl and the guns fire a beam of light making it a safe game.



Comes with 2 Wired Optical Guns.
---
The URL for this product is:
https://www.highwaygames.comhttps://www.highwaygames.com/arcade-machines/cool-gunman-6085/

Copyright © 1999 - 2022, Highwaygames.com All Rights