Cooper's 9
This product comes from Highwaygames.com
---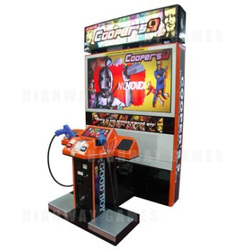 2 Player shooter from Konami. The game is a light hearted, action packed, comedy caper following two assassins.

Carlos Cooper is the head of an international assassins organisation. Two of his deadly assassins have decided that their time is up working for Carlos and want to leave the criminal gang. When they go and break the news to their boss he takes the news as they expected, badly! They then must battle their old colleagues and try to escape the Cooper Corporation building alive.

Features eight levels for players to blast their way through, all set in various locations.

---
The URL for this product is:
https://www.highwaygames.comhttps://www.highwaygames.com/arcade-machines/cooper-s-9785/

Copyright © 1999 - 2022, Highwaygames.com All Rights