NSM Cosmic Burst Jukebox
This product comes from Highwaygames.com
---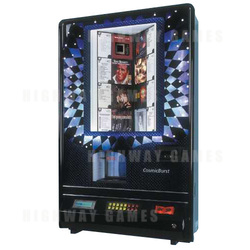 A wallmounted CD jukebox with a 800 watt amplifier and increased programming flexibility. The jukebox features a 8-jacket wide view, that allows all 100 CD's to be viewed within 10 seconds.

The jukebox's electronic components include an SMD (surface mount designed) 800 Watt amplifier (at 2 ohm load) and Central Unit as well as a user-friendly I/O (Input/Output) Panel. These components are located on an electronics chassis that slides out from the lower cabinet area of the jukebox.

All NSM jukeboxes feature a protective CD handling and storage system where CDs are cradled in individual, horizontal trays so that dust, dirt and smoke cannot come in contact with the CD.

The real-time clock features allows tracks or albums to be programmed to the exact minute on any day in a set sequence.

NSM jukeboxes also feature an advertising function that allows promotional CDs or jingles to be played. The advertising is interrupted when a tract is selected and automatically resumes when all selected tracks are finished.



Wide view 8-jacket title display that allows patrons to view all 100 selections within 10 seconds. The title display design offers easy loading and uses a standard-sized jacket and title card.
Infra-red remote control that includes a four channel volume control and sound features such as SRS and Surround Sound
ES 6 technology that offers total programming flexibility
New programming features include 3D surround sound, voice cancellation, programmable virtual disc system, automatic microphone detection and expanded bookkeeping functions.
---
The URL for this product is:
https://www.highwaygames.comhttps://www.highwaygames.com/arcade-machines/cosmic-burst-8157/

Copyright © 1999 - 2022, Highwaygames.com All Rights