Crackin' DJ
This product comes from Highwaygames.com
---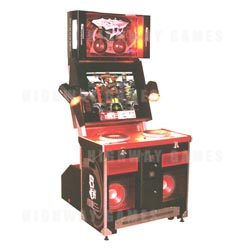 A DJ simulation game in which the player becomes a DJ and must keep to the beat in order to advance through the stages. The player must mix their own tunes in order to keep their groove meter high and survive the stage.

The player does this by scratching the turntables along with special tricks like cueing and cutin'. The player Groove Meter acts as his/her life meter and increases or decreases depending on if the player makes the right moves at the right time or drops a beat. If the Groove Meter completely disappears the player's game is over.

The player also has a fader level slide switch which allows him/her to control the sound levels coming out of both left and right turntable. By moving the switch to the left makes the sound coming out the left turntable louder while, decreasing the sound coming out of the right turntable. Moving the switch to the right has the opposite effect.

---
The URL for this product is:
https://www.highwaygames.comhttps://www.highwaygames.com/arcade-machines/crackin-7902/

Copyright © 1999 - 2022, Highwaygames.com All Rights