Criminal Action
This product comes from Highwaygames.com
---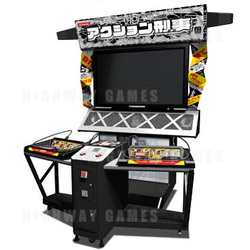 Criminal Action is a "multi-sensory action" game from Konami. The game uses motion-based handheld controls which are used by the player to punch and shoot opponents.

The player uses two "D-Shaped" controllers, one for each hand. Each controller has a trigger and a button, and can be used as a light-gun by pointing at the screen and pressing the trigger. Players also use the controller to punch opponents. Players must literally throw punches in the direction of the screen, with the motion based controller detecting when and where you are punching.

Criminal Action features E-AMUSEMENT support, and is playable by up to 2 players.



Also known as Action Deka
---
The URL for this product is:
https://www.highwaygames.comhttps://www.highwaygames.com/arcade-machines/criminal-action-10146/

Copyright © 1999 - 2022, Highwaygames.com All Rights