Dance Maniax 2nd Mix Arcade Machine
This product comes from Highwaygames.com
---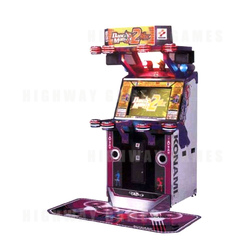 Dance Maniax 2nd Mix is a follow up to the original Dance Maniax. 2nd Mix offers more variety and new features coming with pumped up with new tunes, stages, and modes to play.

The player is given the choice of playing a normal game or altering the way the game is played by selecting certain options. There are Single Play, Double Play, 2 Player and Center Play options available as well as over 50 songs to choose from - including 28 new songs! Songs can also be selected in the Mild or Wild style which increases or decreases the tempo of the song.

Dance Maniax 2nd mix also features Hidden/Sudden modes and game speed customisation, making the game more exciting for players. The the well-known Mirror Mode and Lane Change are also included in 2nd Mix.

Gameplay involves four optical sensors that determine player movements. The sensors are positioned such that there are two top and two bottom sensors on each side. As the notes to the song pass down the screen, players must move their hand over or under the appropriate sensor. Play continues until either all songs in the stage have been passed, or as the life meter is fully depleted.




---
The URL for this product is:
https://www.highwaygames.comhttps://www.highwaygames.com/arcade-machines/dance-maniax-2nd-8111/

Copyright © 1999 - 2021, Highwaygames.com All Rights