Dark Escape 4D Arcade Machine
This product comes from Highwaygames.com
---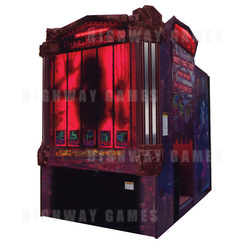 Dark Escape 4D Arcade Machine is a theatre cabinet which features a light gun game and motion simulation seats!

Experience a whole new level of gaming entertainment with Dark Escape 4D! An extremely interactive Horror themed machine from Namco, Dark Escape 4D is gun shooting simulator that surpasses any previous 3D gaming experiences. It couples 3D graphics with sound, motion and wind effects to create a never-seen-before 4D experience.

The game can be watched in either 2D or stereoscopic 3D. The 3D glasses are anti-bacterial and can be worn over the top of player's own glasses. There are wind-blowing air effects and seat vibration which are used to startle the player at certain moments. There is also heart beat sensor that senses the player's level of fright and displays the results on screen at the end of the game.

Gameplay featrues include five selectable stages, including a Prison(necrophobia stage), Death Chamber(achluophobia stage), Cabin(agoraphobia stage) and a Laboratory(entomophobia stage) plus a final secret stage. Enemies feature zombies, insects and vermin as well as other spooky creatures.


Features:


stereoscopic 3D visual experience. Feel immersive the experience through the 3D glasses.
Seat features force feedback response, synced to story mode for maximum integration with players. The forced vibration chair will react to story sequences to frighten the players.
The burst effect of air to create a chilly wind and the cool feel will definitely give players chills.
5.1 channel stereo surround sound, two players ear has a speaker, a total of seven speakers
Heart rate detector.
---
The URL for this product is:
https://www.highwaygames.comhttps://www.highwaygames.com/arcade-machines/dark-escape-4d-arcade-machine-11638/

Copyright © 1999 - 2021, Highwaygames.com All Rights