Deadstorm Pirates DX Arcade Machine
This product comes from Highwaygames.com
---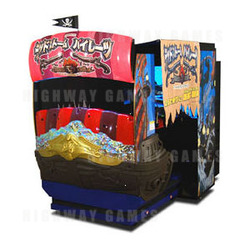 The Deadstorm Pirates DX Arcade Machine from Namco is a two player deluxe cabinet shooting game.

Experience a swashbuckling adventure with Deadstorm Pirates DX from Namco. A 2-player closed booth style gun arcade machine, where the players sit in the cabinet and play the role of pirates, defeating their enemies with a variety of weapons.

Players take on the role of a pirate and must defeat their enemies with weapons including machine guns and cannons. The game can be played by one or two players cooperatively. When the game is being played by two players, shooting at the same target together produces a more powerful shot. In the center of the control panel is a replica helm of a ship which is used to change the direction of your ship during certain sections of gameplay.

There are 5 stages to play through each with a variety of unique features, with the player able to select which stage they would like to play. The first four stages, "Stormy Sea", "Mountain Rapids", "Forbidden Cave" and "Giant Whirlpool" can be played in any order.

It also has a red switch on the control panel which acts as an emergency stop for the motion platform, if the player chooses to stop the movement during play.

---
The URL for this product is:
https://www.highwaygames.comhttps://www.highwaygames.com/arcade-machines/deadstorm-pirates-dx-10500/

Copyright © 1999 - 2021, Highwaygames.com All Rights