Dialed In Pinball Machine
This product comes from Highwaygames.com
---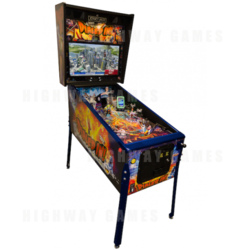 Dialed In Pinball Machine is a new original title from Jersey Jack Pinball and Pat Lawlor, and is the third machine to be added to the JJP range.

Pat Lawlor is famous for designing some of the best-selling pinball machines, such as The Addams Family and Twilight Zone, and Dialed In is going to be no exception!

This is a herald back to the golden age of arcades, where pinball machines were all about the design and strategy, not primarily focused on a license. However, while taking the old school pinball approach, it is a modernised innovation of pinball as well due to it's technological features.

Features of Pat Lawlor's Dialed In pinball machine include:


Integrates Bluetooth & smartphone connectivity and a camera. Simply lay your smartphone down on the glass and it will activate a special mode during multiball.
5 magnets and 3 flying drones
3D interactive projected image
An animated robot toy
Hidden trap door
27″ HD monitor in the backbox
Headphone jack input
RGD LEDs throughout the playfield
Standard pinball size, NOT widebody

The Dialed In Pinball Machine is packed with toys and devices to occupy players.The pinball machine also features Jersey Jack's signature playfield LCD, this one being which is the smartphone on the playfield.


Dialed In Pinball Machine will be available in two models: The Collectors Edition and the Limited Edition.

---
The URL for this product is:
https://www.highwaygames.comhttps://www.highwaygames.com/arcade-machines/dialed-in-pinball-machine-17325/

Copyright © 1999 - 2022, Highwaygames.com All Rights