Dido Kart 4 Player Motion Deluxe Arcade Machine
This product comes from Highwaygames.com
---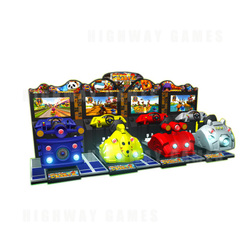 The Dido Kart 4 Player Motion Deluxe Arcade Machine is 4 motion deluxe driving game units linked together to create a 4 player machine, in which players must race against each other! The game uses the cute, distinctive, and colorful animal characters familiar from the world of Dido Kart racing.

Dido Kart utilizes High-definition 3D graphics on 42" LED monitors and innovative motion to improve the simulation effects. With vivid facial expressions and special costumes, the animal characters have a lot of personality, they are sharper and more humanized.

The aim of the game is for players to race in famous tourist sights and festival celebrations around the world. Player can collect and use interesting items throughout the race to improve abilities or attack competitors.

This fun and exciting multiplayer game is perfect for players of ranging ages, and earns well in medium to large locations, such as Family Entertainment Centers.

---
The URL for this product is:
https://www.highwaygames.comhttps://www.highwaygames.com/arcade-machines/dido-kart-4-player-motion-deluxe-arcade-machine-17161/

Copyright © 1999 - 2022, Highwaygames.com All Rights