NSM Digital Thunder Wall Jukebox
This product comes from Highwaygames.com
---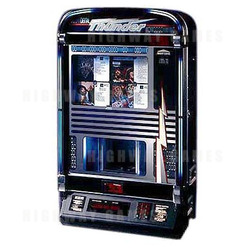 A wall-mounted 100-CD jukebox from NSM Music. Digital Thunder is fitted with the HyperBeam System which provides operators with enhanced compatibility features.

All NSM jukeboxes feature a protective CD handling and storage system where CDs are cradled in individual, horizontal trays so that dust, dirt and smoke cannot come in contact with the CD.

The real-time clock features allows tracks or albums to be programmed to the exact minute on any day in a set sequence.

NSM jukeboxes also feature an advertising function that allows promotional CDs or jingles to be played. The advertising is interrupted when a tract is selected and automatically resumes when all selected tracks are finished.



100 CD single player changer
Protective CD handling and storage
Ergonomically designed controls
Over 100 programmable features and functions
Automated background music
Optional cable remote control
Optional wireless remote control
NSM DataPrint - retrieves popularity, cash, diagnostics and other information electronically
Microphone kit
---
The URL for this product is:
https://www.highwaygames.comhttps://www.highwaygames.com/arcade-machines/digital-thunder-10847/

Copyright © 1999 - 2022, Highwaygames.com All Rights