Dolphin Star Arcade Machine
This product comes from Highwaygames.com
---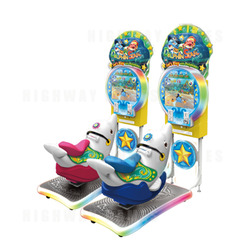 Dolphin Star Arcade Machine is a Kiddie Ride with video game in which players ride a dolphin controlled by a reign.

The story of Dolphin Star revolves around a grand Royal Ball, the grandest in the ocean, which had been decorated with lots of beautiful starfish. But it all goes wrong when the naughty Captain Starfish takes all the little starfish out to play. Shen Mage becomes nervous and sends out Dobby the Dolphin to find them.

To control the dolphin players must use the reign attached to their seat. To turn left, simply pull the left side of the reigns; to turn right, pull the right side of the reigns; to jump pull both sides of the reign together; and to perform a magic shot push the button on top of the dolphins head.

The game has various modes, roles and scenes for young players to enjoy, creating an abundance of content and there are loads of different items for players to pick up as well. The game focuses on Vocabulary Learning and uses two main stages:


Stage 1 - collect starfishes
Stage 2 - Boss fights!

Items to collect include:


Starfish - +20 points
Starfish Overlord - earn double points on each starfish
Magnet - Attract starfishes
Word Card - Earn bonus time

Characters include the four dolphins - Dobby, Dodo, Deidei, and Deggie, Shen Mage, Captain Starfish, Splinter Boy, King Walrus, Steel Shark, and Big Lantern.



Features:


19" LED Monitor
Safety Swing Dolphin Seat With Reigns
LED Flashing Lights
---
The URL for this product is:
https://www.highwaygames.comhttps://www.highwaygames.com/arcade-machines/dolphin-star-arcade-machine-17101/

Copyright © 1999 - 2021, Highwaygames.com All Rights