Down the Clown Deluxe Twin Arcade Machine
This product comes from Highwaygames.com
---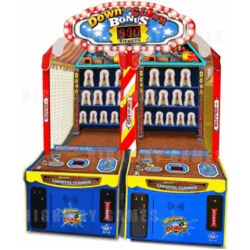 Down The Clown Deluxe Twin Arcade Machine is a carnival / midway ball toss ticket redemption game by Smart Industries. It replicates the all-time favorite classic game and transforms it into a very cool two player ticket redemption game!

Down the Clown Arcade Deluxe was designed to allow 1 or 2 players to head-to-head in friendly competition, and to encourage 'family play'. This game is designed for family fun and works well in both street locations and FECs thanks to it's straight for ward and simple game play.

Players toss balls at the different sized clowns for points. Hitting certain clowns adds bonus points, as the players attempt to the hit the interactive big bonus. The more clowns they knock down, the more points and tickets they earn!

Down the Clown incorporates a fun and quirky "carnie" voice that heckles, engages and encourages players of all ages. As the players successfully knock down the clowns, a mechanical arm lifts the clowns back up after being hit.

Down the Clown also features a beautiful, life-like carnival canopy top, handmade carnival clowns, lots of flashing LEDs and a Deluxe Bonus Marquee Sign!

---
The URL for this product is:
https://www.highwaygames.comhttps://www.highwaygames.com/arcade-machines/down-clown-deluxe-twin-arcade-machine-17124/

Copyright © 1999 - 2021, Highwaygames.com All Rights