Dragon King 8 Player Arcade Machine
This product comes from Highwaygames.com
---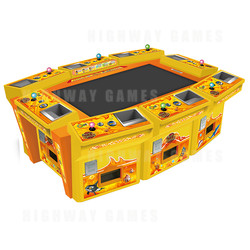 The Dragon King 8 Player Arcade Machine is perfect for customers looking to update location with an exciting fish hunter, video redemption game.

Dragon King uses an oceanic theme, where players must use the different weapons and game features to catch fish to earn points.

The cabinet features a large 58" LCD screen, with HD graphics, multiple input and output options, and is packed full of LED light displays to make the cabinet bright and vibrant!

The game uses the same controls (joystick and buttons), fish and mini game features as the original Ocean King, but has also added extras for players to enjoy. In Dragon King a gun has been added to the player's arsenal - the Homing Missile Gun! Players can access this Homing Missile Gun by moving and holding the joystick in the up direction, and it will automatically target the big fish on the screen, such as Sharks, etc.

The game a huge 20 fish that players must try and catch, including the big catch - Golden Dragon! The Golden Dragon is quite hard to catch and may require players to work together, but whoever manages to capture the Golden Dragon will be Dragon King!

The full list of feature mini games includes:


Vortex Fish - each fish (except Devilfish, Shark, Killer Whales, Humpback Whales and the Crabs) have a Vortex feature. When a player picks up the Vortex feature, the fish captures all the same fish near it for the player.
Lightning Chain - there are nine types of fish which are subject to chain thunder: Snapper, Clown Fish, Butterfly Fish, Fugu, Lionfish, Flounder, Lobster, Spearfish and Octopus. When players use Lightening Chain they can get up to nine kinds of fish at once and win extra points.
Laser Crab – when players capture the Laser Crab they get one laser beam shot, which they have a limited time to aim and shoot to capture a lot of fish at once.
Explosive Crab – catching this crab triggers a large explosion and get more points for all the fish the explosion affects.
Roulette Crab – when players capture this crab, it will begin the Golden Roulette bonus game. A roulette wheel will appear on the screen in front of the player and will start spinning. Players must press the 'SHOOT' button to stop the spinning and win points. The inner roulette ring scores the highest points.

Dragon King is quite straight forward and easy to understand, making it suitable for players of most ages and for a variety of locations, such as family entertainment centres and street locations. This machine will stand out in any location and will draw in players from all across the floor.


Features:


Chinese or English version
8 player cabinet
New weapon - Homing Missile Gun
20 types of fish to catch
5 game features
1x new super weapon - Homing Missile Gun
---
The URL for this product is:
https://www.highwaygames.comhttps://www.highwaygames.com/arcade-machines/dragon-king-8-player-arcade-machine-17160/

Copyright © 1999 - 2022, Highwaygames.com All Rights