Driving Party
This product comes from Highwaygames.com
---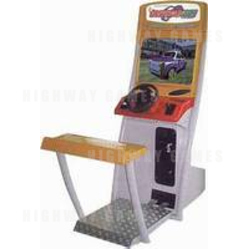 Driving Party is a racing game where players race around the twisting street of Italy.

The game features 3 courses, "Town Course", "Coast Course", "Mountain Course" and there are 8 cars to choose from. The player either races against the C.P.U. and oncoming traffic or simply against the clock, where there are no other cars. Players can also soup up their cars before beginning the race.

"Driving Party" is not designed as a realistic racing simulator. It's made for players that like reckless driving around crazy tracks, maneuvering through tight hairpin turns, making insane jumps and taking shortcuts all in attempt to cross the line first and ahead of time.

---
The URL for this product is:
https://www.highwaygames.comhttps://www.highwaygames.com/arcade-machines/driving-party-8122/

Copyright © 1999 - 2021, Highwaygames.com All Rights