DrumMania V3
This product comes from Highwaygames.com
---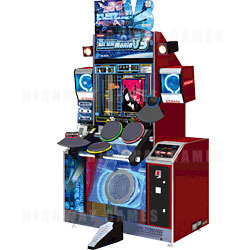 Drum Mania V3 has 400 tracks to choose from. Konami's e-amusement system is supported, which allows your results to be posted on the Internet Ranking board. The e-amusement pass also stores the results of the songs played. This system allows regional player championships to be conducted easier than ever before.

Drum Mania V3 can be linked up to Guitar Freaks v3 to simulate a jam session, with up to three players able to take part. The drum set consists of two cymbals, three drum pads and a foot pedal. The cabinet also has three buttons located next to the pads which are used to select and decide in the selection screens.

Similar versions of the Drum Mania series have been released throughout Asia under the title Percussion Freaks.

---
The URL for this product is:
https://www.highwaygames.comhttps://www.highwaygames.com/arcade-machines/drum-mania-9484/

Copyright © 1999 - 2020, Highwaygames.com All Rights