Big Buck HD Duck Dynasty in Panorama Model Arcade Machine
This product comes from Highwaygames.com
---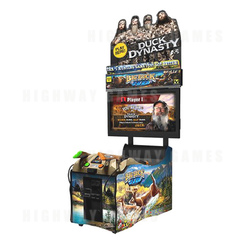 Big Buck HD Duck Dynasty is a Video Hunting Game in the Online Panorama Model arcade machine which is based on the famous series Duck Dynasty.

The Big Buck HD Duck Dynasty Panorama Model offers exclusive game content from the the popular series "Duck Dynasty" and features 16 new rounds of duck hunting, four new ducks and four unique bonus games.

Big Buck HD Duck Dynasty offers three modes of play: Duck Dynasty - Duck Huntin' with the Robertson's, Big Buck Arcade - Pure Huntin' Action, and standard Big Buck HD. Players will also enjoy video and audio clips from the show during game play.

Big Buck HD DD features "always on" online connectivity, which allows players to track scores through their online accounts and compete in tournaments against players from across the country for cash prizes and fame.

PLEASE NOTE: This does not include a monitor. Operators must provide their own monitoR - 42"-55" HD LCD display will fit.


Features:

Ground Breaking New Live Online Game Play Features!
Play Against Other Locations Or Players Worldwide!
Online Promotion Of League and Tournament Play!
1080p HD "Cinema Quality" Game Graphics!
New "Dangerous Trophy" Animals!
100% Brand New Big Buck Hunter Game Play!
Facebook and Twitter Feed Integration to Drive Attention!
New Credit and Debit Card Acceptors!
Connects Via Ethernet or Wi-Fi Free Of Charge, or via Included Cell Modem!
---
The URL for this product is:
https://www.highwaygames.comhttps://www.highwaygames.com/arcade-machines/duck-dynasty-big-buck-hd-arcade-machine-16468/

Copyright © 1999 - 2021, Highwaygames.com All Rights