EA Sports NASCAR Arcade Machine
This product comes from Highwaygames.com
---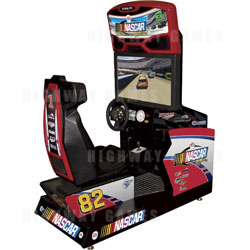 The EA Sports NASCAR Arcade Machine is a fully licensed NASCAR racing video game for the coin-op market from Global VR and Electronic Arts.

Global VR was given the exclusive rights to develop and manufacture a coin-op version of EA's popular NASCAR racing game, and they have pulled out all the stops to make sure the game creates the most authentic NASCAR experience possible.

The game includes six major, well known tracks which are instantly recognizable to NASCAR racing fans. The tracks include Indianapolis Motor Speedway, Daytona, Talladega, Lowes, Phoenix and Bristol.

Players can also select from popular drivers, including Jeff Gordon and Jimmie Johnson, with players given the opportunity to race against 30 different NASCAR drivers in 30 different car models.

---
The URL for this product is:
https://www.highwaygames.comhttps://www.highwaygames.com/arcade-machines/ea-sports-nascar-arcade-machine-9240/

Copyright © 1999 - 2021, Highwaygames.com All Rights