NSM Emerald Ice Jukebox
This product comes from Highwaygames.com
---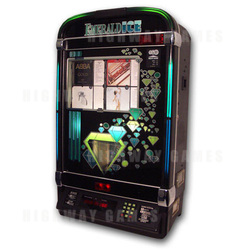 A wall-mounted jukebox from NSM Music. Holds 100 CD Albums and has a built in 200 watt stereo amplifier.

All NSM jukeboxes feature a protective CD handling and storage system where CDs are cradled in individual, horizontal trays so that dust, dirt and smoke cannot come in contact with the CD.

The real-time clock features allows tracks or albums to be programmed to the exact minute on any day in a set sequence.

NSM jukeboxes also feature an advertising function that allows promotional CDs or jingles to be played. The advertising is interrupted when a tract is selected and automatically resumes when all selected tracks are finished.

---
The URL for this product is:
https://www.highwaygames.comhttps://www.highwaygames.com/arcade-machines/emerald-ice-7037/

Copyright © 1999 - 2022, Highwaygames.com All Rights