Extreme Hunting 2 Arcade Machine
This product comes from Highwaygames.com
---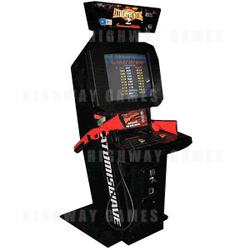 Extreme Hunting 2 Arcade Machine is a hunting game from Sega where players embark on the hunting trip of a lifetime, hunting animals such as Bison, Bear, Moose, Elk, Deer, and Wolf.

The game also features bonus stages featuring Bass, Goose, Bat, Squirrel and more, as well as the chance to play the ever-changing Special Hunts where you can uncover secrets.

The machine offers a wide variety of playing options including Solo Play, Head to Head, and a 4 Player Group Tournament where 4 players alternate turns to determine who is the best. There was also a public Online Tournament option for machines connected to the ALL.Net Network.

Players select from either a Rifle, Shotgun, or Bow and Arrow. If players register on the system, points are earned while playing, which unlock hidden weapons and extras.

---
The URL for this product is:
https://www.highwaygames.comhttps://www.highwaygames.com/arcade-machines/extreme-hunting-tournament-10897/

Copyright © 1999 - 2022, Highwaygames.com All Rights