F-Zero AX Deluxe Arcade Driving Machine
This product comes from Highwaygames.com
---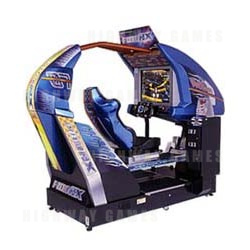 F-ZERO AX Deluxe is a futuristic, high speed driving arcade game machine where players race through an 26th Century Sci-fi world at a heart pounding 2000km per hour. The game runs on the Triforce arcade hardware made by Sega, Namco and Nintendo.

F-ZERO AX is the latest collaboration of Nintendo and Sega, based on the super powerful Triforce system. The game features two race modes; the first race mode is where a total of 30 machines will appear on the screen for players to race against. Additionally up to 4 players can race against each other in linked mode. The second race mode is the time attack mode where players try to score the best time by racing alone.

F-Zero AX is set in a Tron-like futuristic world where thirty pilots race on massive circuits inside plasma-powered hovercars in an intergalactic Grand Prix. The game is noteworthy for its visuals, intense action and for its very high sense of speed. The tracks are never boring, featuring loops, half-pipes, cylinders, and jumps - and some courses have added obstacles like dirt patches, mines, tricky jumps, and magnetic tubes to navigate. Before a race, the player is able to adjust a vehicle's balance between maximum acceleration and maximum top speed. This adds strategy, as players with greater knowledge of the circuits can make better decisions.

Players can choose from a number of different tracks as well as 10 different vehicles. Players can choose to be four pilots and with their own vehicles from original F-Zero game; Captain Falcon, Dr. Stewart, Pico, and Samurai Goroh. Each vehicle has its own characteristics and performance abilities, such as varying levels of top speed, acceleration, cornering, grip, boost, body.

The game uses a license card system, with players able to create and develop their own racer and store their data. Players can also insert a Nintendo Gamecube memory card into a special port in the machine to link data, race custom machines, earn new parts and unlock bonus features.




---
The URL for this product is:
https://www.highwaygames.comhttps://www.highwaygames.com/arcade-machines/f-zero-ax-deluxe-8913/

Copyright © 1999 - 2020, Highwaygames.com All Rights