Fire Fighter Hero Medal Game Arcade Machine
This product comes from Highwaygames.com
---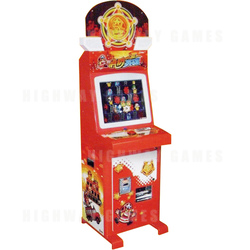 Fire Fighter Hero Medal Game Arcade Machine is a video arcade game including 3 mini climb-up games in various exciting themes. Players must overcome numerous obstacles in order to get to the top, such as blockages, flaming fire and broken power wires.

During Fire Fighter the player must find the best way to escape danger and climb up the ladder to the roof to win points - the higher the player climbs, the bigger the payout will be for the player! The game is full of surprises to keep players guessing and engaged, like funny puzzle windows that display during the climb - break it to win a lucky prize or maybe a special trap!

This simple game play concept, layered with mini-games and twists, give the game a high replay value and makes it suitable for players of all ages and skill levels, while the bright attractive cabinet draws in players from all across the floor.

The mini games featured in Fire Fighter Hero Medal Game include Monkey catch, Earthquake rescue, and Fire Rescue.



Single Player
English version

Machine Size: 54 Width x 47.7 Depth x 162.5 Height

Input/Output Options Available:

Coin In / Coin Out
Coin In / Redemption Ticket Out
Coin + Note In / Redemption Ticket Out
Note In / Thermal Printer Out
Card In / Card out (cashless system)
---
The URL for this product is:
https://www.highwaygames.comhttps://www.highwaygames.com/arcade-machines/fire-fighter-hero-medal-game-arcade-machine-16716/

Copyright © 1999 - 2022, Highwaygames.com All Rights