Fish Fork Master Arcade Machine
This product comes from Highwaygames.com
---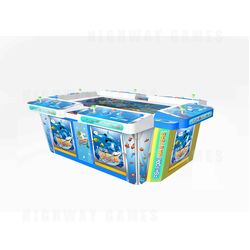 The Fish Fork Master Arcade Machine is a video redemption cabinet designed for 6 players and uses an oceanic theme.

Fish Fork Master is a game in which players will receive tickets or a payout for the number and the type of fish they catch. Players have a set amount of time in which to catch fish and there is no limit on how many fish you can catch in this time. At the end of the game the points will be calculated and players will receive their earnings.

To start playing Fish Fork Master players simply insert their coin/token, etc. into the machine and can start the game. Using the joystick, players control a net gun and they can swap between various weapons, such as the Shotgun Harpoon or Super Harpoon, at any stage during the game.

Once a target has been lined up, players catch them by hitting the Shoot button and once a fish gets hit by the harpoon, players get points. Fish Fork Master also has a number of mini games and features for players to enjoy, and the more you play, the more these features will appear.

These include: Contagious Fish, Electric Eel, Floating Light Bubble, Fish Spearing Competition, Overtime props, Super explosion, and No-work boots.

At the end of the game, the points will be calculated and the tickets will be paid out. The game also has this unique new feature where it performs a ranking for each player, displaying the top 10 in front of each panel. If a player's single play gets him/her to the ranking board, he/she will earn extra tickets!

Some characters include the Butterfly Fish, Squid, Lion fish, Lantern Fish, Clown Fish, Hammerhead Shark, Flying Fish, Tiger Shark, Flat fish, Fugu, and more!

The Fish Fork Master is a great game with loads of fun features, cool fish characters to catch and amazing undersea scenery. The simple game play is made more challenging with optional and random game features making it suitable for players of all ages and skill levels.


---
The URL for this product is:
https://www.highwaygames.comhttps://www.highwaygames.com/arcade-machines/fish-fork-master-16972/

Copyright © 1999 - 2021, Highwaygames.com All Rights