Fortune Orb 3 Medal Machine
This product comes from Highwaygames.com
---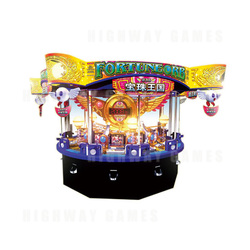 Fortune Orb 3 Medal Machine is large scale medal game from Konami, suitable for 1-20 Players. The game contains a number of mini games, as well as many ways of increasing the winnings including:


Direct Chance,
Fortune Bonus, and...
Jackpot!

Fortune Orb 3 Medal Machine is a super roulette medal machine, games appear on the mini screen for players to possibly win the super JACKPOT for more treasure. Each player point contains a monitor for the player to view the action.

This fun and exciting medal game is fun for players of all ages and earns well in a variety of locations. Due to it's size it is best suited to medium to large Family Entertainment Centres or larger street locations.

---
The URL for this product is:
https://www.highwaygames.comhttps://www.highwaygames.com/arcade-machines/fortune-orb-3-medal-machine-11117/

Copyright © 1999 - 2022, Highwaygames.com All Rights