Frog Around Arcade Machine
This product comes from Highwaygames.com
---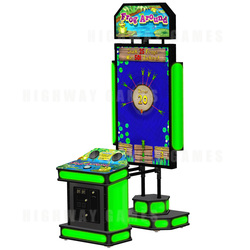 Frog Around Arcade Machine is a video redemption game that features one of the largest screens ever put into a redemptin game!

The cabinet features a 65" High Definition LED monitor that displays crisp, clean graphics that will have players and onlookers amazed! It also features a one-button control for rapid, quick gameplay and a stunning LED light package around the cabinet that will make Frog Around stand out on any arcade floor.

The aim fo the game is for players to attach the frogs to the log using the button control within the limit given. Players much attach a certain number of frogs in order to win the jackpot!

The simple one button control makes this game easy and accessible for players of all ages, who wil have fuin trying to get the frogs the latch onto the log in this straight forward challenge.




---
The URL for this product is:
https://www.highwaygames.comhttps://www.highwaygames.com/arcade-machines/frog-around-17234/

Copyright © 1999 - 2022, Highwaygames.com All Rights