Fruit Party
This product comes from Highwaygames.com
---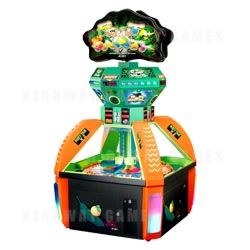 Fruit Party is a coin-drop game from Andamiro that can be played by up to four players, with the player aiming to hit targets around the edge of the machine to win tickets.

Inserting their coins, players will see their coins drop down the chute onto the revolving playfield. There are targets lined around the edge of the playfield, each worth a different amount of tickets.

There are a total of seven segments of targets on the revolving playfield and each one will light up when any player knocks it down. When the last segment is lit up, the player that hit the target on the respective side will be awarded bonus tickets. This player, along with another player that has hit two or more other targets, become the 'Jackpot Challengers' and have the chance to win additional tickets.

In the mean time, all players are rewarded in double amounts of winnings that they earn and all four players can continuously insert their coins to optimize their chances of winning enormous amount of tickets.

---
The URL for this product is:
https://www.highwaygames.comhttps://www.highwaygames.com/arcade-machines/fruit-party-10408/

Copyright © 1999 - 2022, Highwaygames.com All Rights