FunFair Bash Arcade Machine
This product comes from Highwaygames.com
---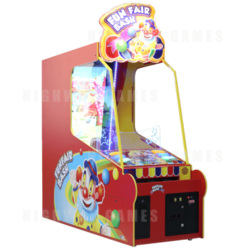 The FunFair Bash Arcade Machine is the first piece in the new Carnival series and also based on a traditional funfair or carnival series of side stalls with wonderful brightness and colour. No doubt, FunFair Bash is proving a perfect attraction for fmaily play with earnings on location proving just that.

It involves 5 different stages with difficulty level increments to win the BIG prize!




Features:

FunFair Themed skill-based redemption
Series of fun traditional sidestall ball tossing games
Different stages with difficulty level increments
Exciting ticket countdown timer
Sidestall themed bright and colourful cabinet

Play Instruction:

While tickets countdown timer is running, the player tries to hit different targets on the screen with colorful soft balls.
Scenes include clowns, stacked milk bottles and rolling barrels…
Win the tickets throughout the scenes, any tickets left at the end of the countdown timer will be rewarded to the player, the faster the player hits targets, the more tickets rewarded.
For a more challenging option, players can continue the game from where they left off and try to complete all the stages.

Includes:

1 x FunFair Bash Arcade Machine
---
The URL for this product is:
https://www.highwaygames.comhttps://www.highwaygames.com/arcade-machines/funfair-bash-arcade-machine-17149/

Copyright © 1999 - 2022, Highwaygames.com All Rights