Game of Thrones Pro Pinball Machine
This product comes from Highwaygames.com
---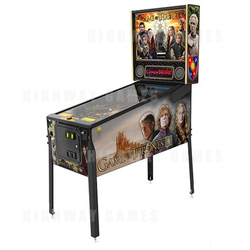 The Game of Thrones Pro Pinball Machine is based on the hit television series and is packed with features and toys that provide a unique challenge for players of all levels!

The Pro edition challenges players to play against kings, knights, knaves and dragons. Each player can choose to be a Knight of the Stark, Lannister, Greyjoy, Baratheon, Martell, or Tyrell family Houses, and pick other Houses to battle.

It also features Game of Thrones actor Rory McCann as Sandor Clegane (The Hound), who guides the player throughout the game with an authentic and strong presence. The goal of the game is to secure the Iron Throne and rule the seven kingdoms of Westeros.

Players can win valuable random awards and features with Reel Pops, a fun new software mechanism, by playing the Pop Bumpers and spinning three virtual spinning reels on the display. When three identical symbols line up, the player is awarded the prize shown on the reels.

Players can also earn Gold and spend it on needed weapons and features to further their campaign for the Iron Throne. This in-game economics is added by an Action Button, which is featured on the front molding, and accounts for the largest array of interactive play features ever seen in a pinball machine.

The Game of Thrones Pro model includes all the above features and 7 multicolor Shield inserts that represent the great Houses of Westeros and special shots on the playfield. Lightning-fast ramps and orbits send the ball on fascinating and versatile courses throughout the game.

It also features an interactive toy Dragon that breathes fire thanks to LED lighting on the playfield!





Features:


Experience the greatest epic Game of Thrones battles in a World Under Glass.
Custom speech and narration by GOT actor Rory McCann as Sandor Clegane, aka "The Hound".
Game of Thrones theme song and many more original songs.
Players choose to be a Knight of the Stark, Lannister, Greyjoy, Baratheon, Martell, or Tyrell family houses.
Players choose other houses to battle and include stacking battle choices for twice the challenge.
Animated interactive Dragon toy.
Exciting Sword Fight display mode.
Battering Ram sliding Bash Target smashes Castle Gate for bonuses and needed weapons and features.
Sword of Multiball Swinging Sword Device.
Dragon Kickback fires ball back at players in anger.
Spinning Target with Sync-Flash TM Super bright Flasher.
2 Electric Gates.
2 Superspeed Ramps.
1 Up Post.
1-1.5" Custom Castle Gate Stand Up target.
5 - .5" Stand Up Targets.
3 Bank Drop Targets.
2 Bank of 1.5" Stand Up targets.
Right plastic ramp feeds to chrome right wire ramp, Sword of Multiball, and right flipper return lane.
Left plastic ramp feeds left flipper return lane.
2 New Drive Concept "No Buzz" Quiet Flippers.
3 Pop Bumpers with LED lighting.
7 Full Spectrum color-changing RGB LED's under playfield Shield inserts.
All LED general illumination.
Unique Art by Greg Freres and Steven Martin featuring "Iron Throne and King's Landing" Translite Backglass.
Full Color High Definition decal material cabinet art featuring Key Characters, King's Landing, and Winterfell.
Latching Lockdown bar.
Traditional playfield rod supports.
Powder coated steel and plywood backbox with color themed t-molding.
Black Wrinkle powder coated legs, armor, hinges, front molding.
New SPIKE electronic system
High-efficiency switching power-supply for consistent performance in all line conditions.
3-channel Bass + Stereo Hi-Fidelity sound system.
Separate treble and bass adjustment.
New CPU mounted line-out audio connector for external amplification.
4 Balls.
Traditional Coin Door.
Easy-to-Follow game rules for casual players, with depth for experts.
Modular computer style cord.
---
The URL for this product is:
https://www.highwaygames.comhttps://www.highwaygames.com/arcade-machines/game-thrones-pro-pinball-17191/

Copyright © 1999 - 2021, Highwaygames.com All Rights