Game Wizard Venus Arcade Machine
This product comes from Highwaygames.com
---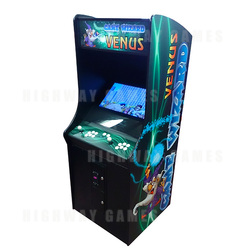 The Game Wizard 26 inch Venus upright cabinet is an arcade machine that features a 26 inch arcade LCD monitor and boasts a massive 508 classic arcade games on a single game board.

We use the industry's premium joysticks and buttons which are made by Sanwa Japan. The joysticks can be used in standard mode, or can be adjusted for 4 way play suitable for games such as Pacman and Donkey Kong. The push buttons and joysticks are white and the plywood cabinet features the unique Game Wizard art design in green.

The cabinet also features four wheels for ease of mobility, four screw down feet that keep the machine steady and level - even on slanted floors, and left and right channel speakers for a fuller sound.

The Game Wizard is a 508-in-1 arcade combo game JAMMA board. All your favourite classic arcade games are now available on a single PCB to be enjoyed by players of all ages. Key features of this game board are:


easily move from game to game using the game player menu. No need to unplug or setup any special matters. Play your favourite game and once finished, go back to the main menu and choose another game to play.
the 508 games can be enabled or disabled from the main menu, and each game has it's own individual settings for full customization. This allows you to change features such as difficulty, number of lives per credit, extra lives, game speed, etc. You can setup the gameboard onto free play or to use coin, and since this arcade game board does not use a hard drive, it is super reliable.
the Game Wizard game board offers both vertical games (Galaga, Frogger, etc..) as well as horizontal games (Street Fighter, Wonder Boy, Double Dragon, etc...) on the one PCB. Previously, you needed to purchase one arcade machine for your vertical games, and another machine for your horizontal games. This game board handles all your classic games with ease.
---
The URL for this product is:
https://www.highwaygames.comhttps://www.highwaygames.com/arcade-machines/game-wizard-venus-16659/

Copyright © 1999 - 2020, Highwaygames.com All Rights