Gauntlet: Dark Legacy
This product comes from Highwaygames.com
---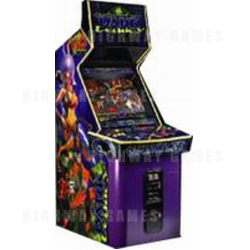 A 4 player scrolling brawler from Midway. Gauntlet Dark Legacy extends the Gauntlet experience with four new characters joining forces in a furious battle to save their land from a cast of fierce new enemies.

The new characters in Dark Legacy - joining the familiar Warriors, Wizards, Archers, and Valkyries - include Dwarves, Knights, Sorceresses, and Jesters.

Each of the new characters has distinct characteristics and fighting styles that add new strategic elements to the game. The dwarf is a hammer-flinging fiend with awesome strength and the Jester can strategically lob bombs at his enemies. There are even special unified attack combo moves that players can activate by working together, combined with a full arsenal of unique weapons and dozens of secret codes and passwords that access alternate characters and effects.

In addition to new characters and combos, there are also four new realms - Ice, Town, Sky, and Dream - plus updated versions of the Mountain, Desert, Forest, and Castle realms. There's even a bonus Battlefield realm for advanced players

Multiplayer gameplay has been enhanced by allowing two players to work together to activate special moves with new combos. In addition, Dark Legacy is full of secret codes and passwords that give special access to alternate characters and many other surprises.



39" Cabinet also available - Dimensions H202 X W109 X D173(cms) Weight 800lbs(363kg)
New spells with dramatic graphics
27 brand-new levels
4 new characters include Jester, Sorceress, Dwarf and Knight, plus 4 alternates
Complex levels with hidden switches and moving parts
New combos, including cooperative ones and a block/defend
New bosses including the final boss: Garm
Quest for Legends Items to ensure your path to victory
---
The URL for this product is:
https://www.highwaygames.comhttps://www.highwaygames.com/arcade-machines/gauntlet-dark-legacy-6063/

Copyright © 1999 - 2022, Highwaygames.com All Rights