Gauntlet Legends
This product comes from Highwaygames.com
---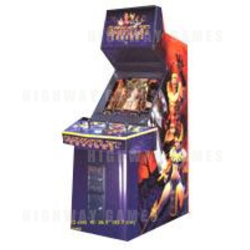 "Gauntlet Legends" is a 4 player station game that has four characters to choose from. The objective is to work your way through four different worlds, discovering secrets and collecting power-ups and earning points. There are five boss characters to do battle with along with over 50 unique other enemies.

Combining the best of the original with new features designed to mesmerize a new generation of fans, Gauntlet Legends is one of the freshest arcade games in years. Gauntlet Legends will usher in a new wave of classic arcade video gaming!

The basic play of Gauntlet Legends is similar to the original. Up to four players at a time can explore the worlds, facing hordes of monsters, searching for treasure, avoiding traps, picking up and using magic, and making their way to the exits. In addition, players now have bosses to contend with, runestones to find, experience levels to boost, puzzles to solve, tons of new power-ups to discover, and a complete storyline to enjoy.



39" cabinet also available H83 X W48 X D59 inches
H211 X W122 X D150 weight 690lbs(314kgs)
8 characters - Warrior, Valkyrie, Wizard, and Archer plus 4 alternates
30 huge levels filled with traps, puzzles, and power-ups
Characters use basic and combo moves, projectiles, magic, and power-ups
35 different power-ups add tremendous variety
Huge variety of monster types with 50 basic beasts and 5 bosses
Character attributes improve the more they are played, from level 1 to 99
Save characters to return and build Legends!
---
The URL for this product is:
https://www.highwaygames.comhttps://www.highwaygames.com/arcade-machines/gauntlet-legends-6250/

Copyright © 1999 - 2020, Highwaygames.com All Rights