Gridiron Blitz Arcade Machine
This product comes from Highwaygames.com
---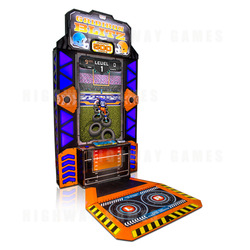 Gridiron Blitz Arcade Machine is a fast-paced, high-energy ticket redemption game that gets your players moving!

The American football themed game is a highly interactive and physically engaging cabinet that will get players of all ages running and laughing, especially with the slapstick humour when players miss a step!

The aim of the game is for players interact with the huge 60" monitor and the action pad below as they run and hop their way through various football drills.

Gridiron Blitz includes three levels that increase in difficulty, and players must try to beat the clock and pass onto the next level. The further the player gets the more tickets they win. Pass all three in the allotted time and win the jackpot bonus.

The Gridiron Blitz Arcade Machine is a great addition to your interactive sports games that provide tons of play value for you game room. Get in the game today!



---
The URL for this product is:
https://www.highwaygames.comhttps://www.highwaygames.com/arcade-machines/gridiron-blitz-arcade-machine-17257/

Copyright © 1999 - 2022, Highwaygames.com All Rights